Our Work
Our founders and employees are technical enthusiasts. We bring the technical know-how, and support demands of business VPS hosting to the consumer market. We aim to please developers and entry level clients alike. [...]

Our Support

Customers, networks, and servers are our top priorities. Our infrastructure was built from the ground up to satisfy the highest demands. If something goes wrong, we'll respond and repair it fast, and make sure it doesn't happen again. We are here to serve you. [...]

Our Services

We offer both Linux AND Windows VPS hosting plans. Unlike a dedicated server there are no commitments or contracts and with prorated billing you'll only pay for what you use.[...]

Why Choose Us?

We pride ourselves in excellence. Our staff consists of seasoned technology professionals which prde themselves on delivering excellent service.
[...]

VPS Hosting for the next Generation.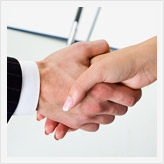 VPS Hosting is a web hosting environment that provides the advantages of dedicated hosting, without the high prices. It can also be described as a technique of splitting a dedicated server into multiple virtual servers.
What is VPS Hosting?
With VPS, a dedicated server node is split into several virtual servers, thereby distributing the costs evenly among all users, while each virtual server has the same interface as a full dedicated server.